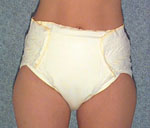 These are the next step in the Babykins 'system'. The diaper is made with elastic at the low waist (where most diapers end up anyway) and the legs. It is made from two layers of flannelette with a six layered centre. Available in plain white, solid colours, and adorable prints. It will hold a bit less than the trainers on it's but is really best as a 'wrap' for the inserts. Where the trainers are a hassle to change, these are not. They are comfortable to wear, stay up until soaked and the absorbency can be adjusted by using inserts. Being six layers thick means they will wash and dry on the 'easy care' plan, using a standard dryer cycle.

Style #10500
sizes: Small, Medium, Large. Xlarge & SuperLarge
Prices $18.00~$26.00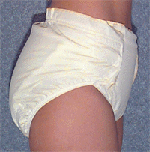 Available in either VelcroŽ or snap-on these briefs use the same absorbent insert material as the trainers but are cut to the same design as the VelcroŽ brief. This product is a durable version of a 'disposable'. It is very easy for the 'caregiver' to use, very much like a disposable in that way, but is significantly more hassle to wash in a home environment. Like the 'all-in-one' pull-on brief, the plastic tends to die long before the fabric is worn out which limits it's long term 'pay-back' vrs. disposables. It's still cheaper, but not as good a value as using separate plastic pants.
Style #10800 Snap-on or Velcro
sizes: Small, Medium, Large. Xlarge & SuperLarge
Prices $18.00~$26.00
washing instructions: this is an easy care product in that normal washing applies but it may not dry as readily due to the inefficiency of a washer's spin cycle.
Click here for general washing information